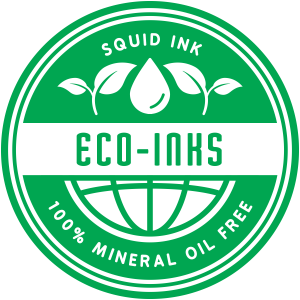 Mineral oils used to label collective packaging can end up in food in different ways. The migration of contaminants in the carton box and the recycled old paper and cardboard packaging are examples of how mineral oil inks can come into direct contact with food.
To meet the requirements of an increasingly aware society and the changing regulations of the European Union, we present a safe solution for labeling collective packaging.
Company inks
Squid Ink Manufacturing Ltd.
The mineral oil-free ECO-INK (MOF) is designed as a direct replacement for the petroleum-based inks produced to date for use on porous substrates. In response to European food safety legislation, ink Squid The ink contains almost zero volatile organic compounds (VOC), zero hazardous pollutants and no hazardous ingredients. The latest ECO-INK MOF inks reduce the risk of product contamination associated with the use of mineral oil based inks in the food packaging industry. Environmentally friendly inks Squid The inks are designed to meet the same high standards as our oil-based inks. ECO-INK MOF inks provide dark, reliable printing for easy-to-read package coding and enhanced barcode scanning capability. For manufacturers looking for colors, we offer a variety of colors including black, red, blue and green. ECO-INK MOF fluids join the rich line of inks Squid Ink, which are filtered to an absolute value of 0,2 microns, resulting in a product that will meet or exceed OEM specifications. MOF inks for porous substrates provide low maintenance, maximizing uptime and printing efficiency. ECO-INK Mineral Oil Free inks are dedicated to the entire range of printers Squid Ink series
Copilot
and for other devices based on Xaar® 128 and 502 heads. We answer all your questions and offer free verification of current solutions in terms of the possibility of introducing changes in marking and adaptation to circular economy. Please send your questions directly to the Managing Director of Druk Serwis 24 Sp. z o. o. Krzysztof Niczyporuk or to the e-mail address:
biuro@drukserwis24.com.pl