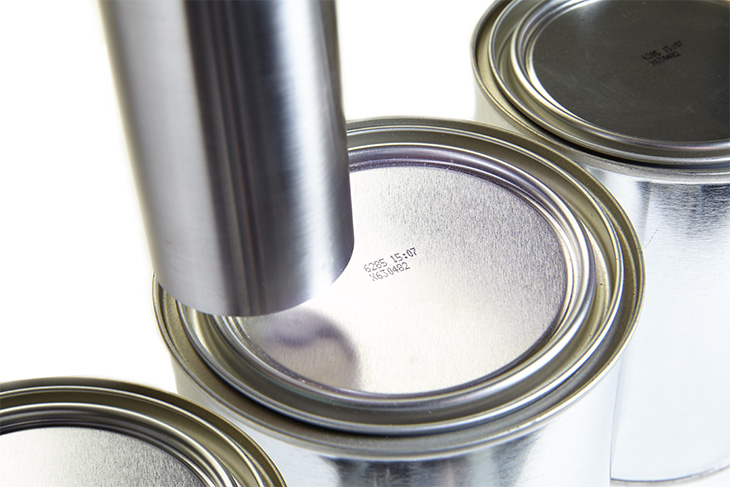 JetStream CIJ Small Character Printing System
The company's JetStream ™ CIJ printing system Squid Ink is designed to print small characters of great quality on a variety of substrates: porous, non-porous, smooth, textured, curved, gravure and more. By printing up to 5 lines of text, JetStream offers a reliable yet cost effective solution for virtually any small character product coding application.
Designed to increase your productivity
JetStream offers users the latest technology. The easy-to-use interface with a 10,1 inch color touchscreen offers a range of options that help users stand out on different products while streamlining their coding operation. The intuitive JetStream software allows users to print database messages directly from a USB drive, allowing users to print messages with variable information from the database. Users also have the option to select up to 16 fast load messages for lines that require fast message change. For messages with graphics, the JetStream on-board software allows users to make changes to the graphics using the built-in graphics editor. Thanks to the intelligent JetStream system software, you can print what you want, when you want.
Minimized maintenance
JetStream is designed with the low maintenance requirements that users rely on thanks to Squid Ink. Self-cleaning JetStream printhead with CleanJet ™ maintenance routine for quick and easy automatic start-up and shutdown. A simple push of a button takes the printer through a power-up cycle or flushes the system to shut down. When routine maintenance is required, components can be replaced in minutes, eliminating the need to purchase expensive filter and pump assemblies or schedule costly service visits. In addition, annual PMs can be completed in minutes by simply replacing the entire ink system with an inexpensive refurbished system.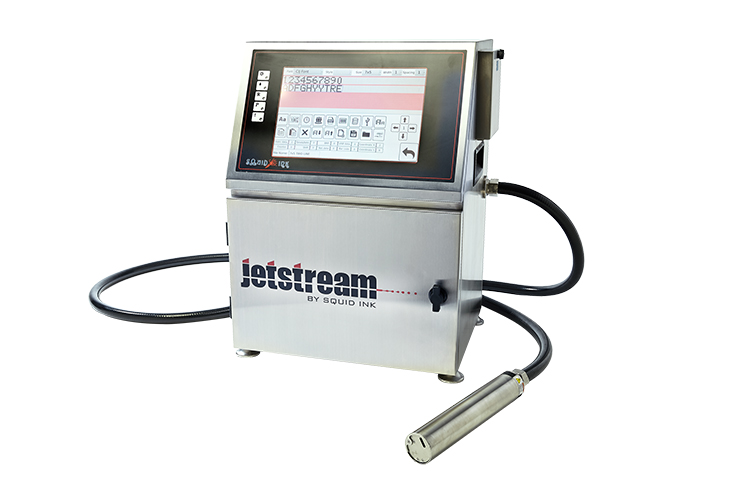 KORZYŚCI


BENEFITS OF JETSTREAM
Up to 5 lines of printing
Line speeds up to 1000 ft / min
Easy-to-use 10,1 "color touch screen
Automatic start and shutdown maximizes uptime
Simple maintenance with quick couplers of spare parts

SYSTEM


SYSTEM SPECIFICATIONS
Printing technology - continuous ink
Nozzle size - standard 60 μm nozzle
Printing speed - Up to 1000 feet / minute (305 m / min) with 5 x 5 signal lines
Max printing lines - 5 lines @ 5 × 5 fonts, 4 lines @ 7 × 5 fonts
Font matrix configurations - 5 × 5, 7 × 5, 9 × 7, 12 × 12, 16 × 16, 24 × 24, 32 × 32
Character height - 0,07 "- 0,59" (1,8mm - 15mm);
font up to 32 dots high with a single line of text
Throw distance - distance from the print head to the substrate up to 30 mm
display - 1280 × 800, 10,1 "LCD touch screen
Place for messages - 8 GB
Software functions - barcodes, graphics, counter, batch counter, shift code, time and date, expiry date
Operational functions - One button print start / stop, print delay control, reverse print, reverse print, bold print, auto clean
CleanJet ™ - Quick and easy one-button start / stop process for automatic cleaning
Communication inputs - Photocell / trigger, encoder, reverse print, BCD select, RS232, reset counter
Communication outputs - Alarm lamp (3-color), ready to print, warning
Ports - encoder, photocell, serial and alarm signal, I / O, network and USB connections
Printhead - Compact and durable stainless steel construction, omni-directional printing capability
Print head dimensions - 9,25 "(23,5 cm) long, 1,5" (3,8 cm) in diameter
Print head cable - Vinyl-coated armor;
Standard umbilical cord length 9,8 '(3 m);
Optional 13,1 '(4m)
Cabinet design - stainless steel cabinet
Cabinet dimensions - 19,3 "(49 cm) H X 14,6" (37 cm) W X 12,2 "(31 cm) D
Electrical requirements - 90 - 240 VAC, 50 / 60Hz
Working environment - 41 ° F - 113 ° F (5 ° C - 45 ° C)
Range humidity - 30–95% RH, non-condensing
Weight - 53 lbs.
(24 kg)
Carcasses - Comprehensive range of inks for a variety of industry applications and requirements, including MEK, acetone and ethanol base;
available colors and soft pigment formulas;
no ICs or RFID tags

OPTIONAL ACCESSORIES

OPTIONAL ACCESSORIES
Print Trigger - Optical, fiber, ultrasonic, laser, metal, proximity
Encoder - For working with variable speed conveyors
Low Ink Light - Alerts users to low ink levels
Mounting brackets - Fully adjustable print head floor stand eliminates vibrations from the conveyor
Racks - Stainless steel trolley with two shelves for storing the CIJ cabinet and supplies, includes wheels
Print head pressure boosting kit - requires air from the installation
Four-port USB hub - Provides 3 additional USB ports
Beacon alarm - Optional warning lamp with bracket