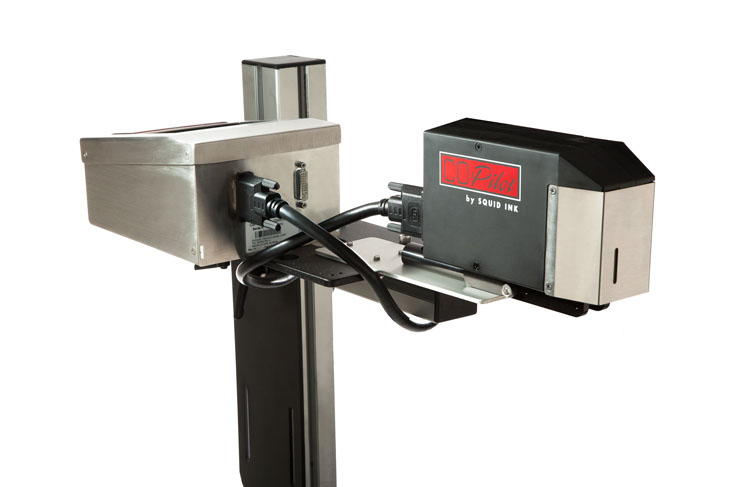 Printing system CoPilot Hi-Resolution
CoPilot company Squid Ink uses proven piezoelectric technology to print high resolution characters up to 18mm high, sharp text, scanned barcodes and great looking logos at 185dpi resolution. The printer has a 4,3-inch color touch screen that gives you easy access to messaging and printing options. Messages are created and edited in the company's easy-to-use Orion ™ desktop software Squid Ink. The designed prints are sent via Ethernet or USB device. In case of using more printers CoPilot they can be connected via Ethernet or wirelessly and controlled from one central computer with Orion installed.
Competitive advantage
Squid Ink introduced printers CoPilot ™ with many high definition printing system options at the base price. Printing system CoPilot company Squid Ink offers several advantages over competitive printing systems based on, among others. on HP or Lexmark cartridges. Thanks to the printers CoPilot users can expect 30% more print, increased ejection distance, 5 times more ink volume. In addition, the printer can be equipped with a second printhead or multiple printers can be combined to create a multi-color print or used in a cascade arrangement.
Easy printing
The printer's color touch screen CoPilot 4,3 "in size, provides access to internal system messages and print functions. Messages are created and edited in the easy-to-use Orion desktop software. Messages can be selected and completed on the touchscreen in an easy-to-navigate menu. In addition, the printer can be equipped with a handheld barcode scanner and select prints from the printer's memory by scanning the codes on the printed sheet or scanning the code on the product.
Top quality printing of sharp images, logos, pictograms, text and XNUMX% legible barcodes.

Use of two print heads for one printer.

CoPilot uses inks based on standard oil, ecological oil (Mineral Pil Free) or solvents for printing on a wide range of porous - absorbent and non-porous - non-absorbent substrates.

The printer's color touch screen CoPilot 4,3 "size allows easy selection of printed design and printer settings.

Printing system Copilot as standard, it enables remote management of the printer via Ethernet and wirelessly.

KORZYŚCI

BENEFITS OF Z COPILOT
CoPilot uses proven piezo Xaar technology for razor sharp printing
Available in an oil-based version for porous applications or a solvent-based version for non-porous applications
Print up to 0,7 characters high resolution characters, razor-sharp text, scanned barcodes and great looking logos at 185 dpi
Color touch screen CoPilot 4,3 provides access to internal system messages and print functions
Compatible with the easy-to-use Orion ™ composing desktop software Squid Ink

SYSTEM

SYSTEM SPECIFICATIONS
Printing technology - Pulse Piezo print head technology
Maximum Printing Height- 1,7 "(1,8 cm) per print head
Vertical printing resolution - 185 dpi capable of printing razor-sharp graphics, small character text, and scanned barcodes
Horizontal print resolution - 205 dpi
Printing speed - up to 135 ft / min
(41 m / min) @ 205 dpi, optional high-speed print head up to 200 ft / min (60 m / min)
Time and date - Internal real-time clock with battery backup
Product sensor - External scattered photocell
Communication interface - one USB host and one Ethernet input
ekran dotykowy - color screen
touch 4,3 "(10,9 cm)
Ink cartridge capacity - 200 ml
Low ink indicator - a warning message on the touch screen;
Optional LED beacon
The possibilities of the substrate - Porous or non-porous surfaces
Electrical requirements - 100 - 240 VAC, 50/60 Hz
Working environment - 1 ° - 40 ° C (34 ° F - 104 ° F)
Agency certificates - CE, TUV

SOFTWARE

SOFTWARE SPECIFICATIONS
Time and date - full date and time functionality, including expiration date and Julian dates
Item numbering - Sixteen counters, one of which can be daily counter and production counter
Revision codes - Four programmable shift codes with automatic rollover
Codes barcodes - all standard barcodes, including 2D
Fonts - Arial, Arial Bold, Arial International, Arial Monospaced, Courier, Tahoma Bold, and Lucida resident fonts for use in variable data items.
Static elements in any Windows® font
Logo - most of the image files supported by Orion Graphical Interface Software
Printing functions - Back button, Invert, Rotate, Repeat, Print On / Off
The length of the message - limited by the length of the carrier - up to 180 "
Number of messages - 4 GB of disk space can store about 1000 messages
Ink consumption - Shown in Orion ™ PC software
User data prompts - Entry prompts
data by the user at the beginning of the print job by manual input on the touch screen
Bluetooth connectivity - for communication with Bluetooth keyboards
Wireless connectivity - for a wireless connection between a computer or tablet and the printer controller
Database - Ethernet communication protocol for external communication
languages - English, Spanish, German, Chinese, Japanese, Korean, Russian

OPTIONAL ACCESSORIES

OPTIONAL ACCESSORIES
High-speed print head - up to 200 ft / min (60 m / min)
Encoder - For working with variable speed conveyors
Wireless USB device and router - for wireless communication
Windows Tablet - preloaded with Orion software;
includes mounting bracket with swivel arm, USB to Ethernet cable and stylus
Conveyor mounting bracket - Provides a stable attachment to a conveyor or other material handling equipment
Floor stand - includes mounting brackets and legs with leveling feet;
Total Height 59 "(1,5 m)
Laser scanner barcode - Allows you to scan and print messages
Exterior warning light - indicates low ink level
Starter pack - Contains ink, cleaning and rinsing fluid, printhead wipes, hand cleaners and latex gloves